If you have seen my pictures of my reef aquarium you may notice it looks "in my opinion" a little daft where the skimmer sump and power head are.
Not only that, but the pump running the skimmer is hanging on the side of my tank
literally
by the flexible feed and return hose. This has
annoyed
me for some time, So i plan on replacing the
flex
hose with rigid piping and mounting the pump in the cabinet out of site.
I am having a few issues of knowing how to, and what size connectors to attach to my
TMC
600 skimmer, the bore of pipe, and how to connect to my
Aquamedic

2500 pump.
I have asked this question on forums without a proper answer so i think i will have to talk to a supplier and only when i know, place the order.
Update
I have started with a little progress on this project. I found a great supplier of marine supplies
particular
hose, pipes, and fittings, and in my opinion
competitively
priced.
i have ordered from a supplier called
coral culture
. There website even told me the fittings i needed to my pump. Having read the reviews on the
internet
they seem a really good company, i will post feedback when the delivery arrives. I will add update with some pictures as i progress.
I have used 20mm piping with the use of two ball valves to help in maintenance.
heres
how it looks now
heres
where it is going on top of cabinet on a removable shelf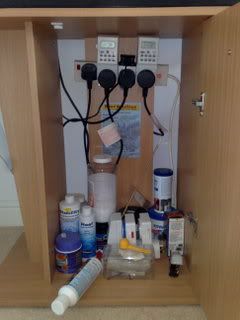 Finally finished this little job, but not without it's difficulties a couple of tiny leaks that was easily repaired. It works great though and the
efficiency
of the skimmer is much better, i had to turn down the skimmer bubble rate as it nearly
overflowed
on it's
previous
setting.
after having it running for a few hours i had another check for any leaks and to my shock feeling behind the pump the main pump pipe came off, disaster water flowed everywhere and tripped the mains. i quickly managed to turn of the ball valves that i fitted to stop any further spillage. this in turn made me
realise
the mistakes i had made by also putting the mains lead below the pump. I now have placed
jubilee
clips on the flexi hose i had to use to connect the rigid pipe to the pump because the fittings i got was incorrect. There should be no further problems hopefully.
All the remains to do now is to fit the rest of the shelving to allow me storage space and find some way of making the pump a little quieter.
As promised here are the pictures after completion of this small project